Step back in time at the Red Garter Saloon/Ruby House Restaurant, view our rich history displayed through the building. Open April through October.
The Red Garter is a family owned business, opened by Leo Toskin over 40 years ago when this location in Keystone was a small house on a dirt road. The Red Garter survived the flood of 1972 and the fire of 2003 to emerge as a Keystone landmark.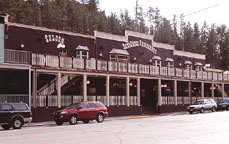 Red Garter has become one of the Black Hills favorite attractions, whether you are visiting with the family or joining us for the Sturgis Motorcycle Rally; we have something for everyone! The Red Garter welcomes family's and provides appropriate entertainment from open to 9 pm. We are featured on TRIP ADVISOR as the #4 must see attraction in the Black Hills with our Comedy Western Gun Show. After the show, visit our store next door: Iron Creek Gifts, and pick up your authentic Marshall badge just like Wild bill wore!
The Show delivers historical facts which surrounded the last days of Wild Bill Hickok's life, while entertaining both young and old alike. Join us for this historic show which has delighted visitors for over 28 years here at the Red Garter.
After dinner we welcome the adults to join us again for country western music, or to pick up spirits to go from our wide selection offered by Madam Ruby's Liquor Store on the first floor.
With two outside decks for seating, the quaint balcony overlooking the stage, there is plenty of room to enjoy the heritage along with a sarsaparilla, birch beer or your favorite cocktail with the family.